Can anyone help me find out the maker of my teddy?
by Samantha
(Murfreesboro)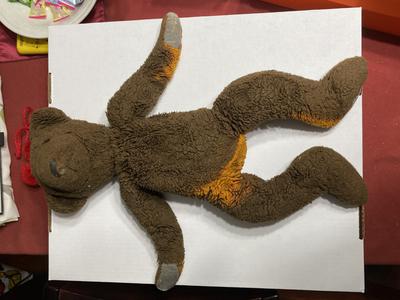 Front of Cuddles
I have had Cuddles since I was 5-6 years old. I was born in 1992 in Bethlehem PA. This is where he was purchased. My mom thinks she got him at Walmart, but isn't for sure. I don't remember what the tag looked like, I do remember that he was very soft and had a curly like fur, he has been washed and dried several times, because I took him everywhere with me. His eyes are like a hard plastic I think and his nose is sewn on. I cut the fur from around his eyes as a kid because I felt like he could not see well. He came with a red bow around his neck. He used to have fuzz on the padding of his paws. It has completely faded away. It seems that under there is a thin jean like material? I don't know what else to call it. His limbs do not move on at the base but he is very floppy. He has been my very best friend all my life. No stuffed toy has every held up like he has.


he is 19 inch tall
his arm are 8 inches long
legs are 9 inches including feet.
he is dark brown, black stitching for nose and mouth, eyes are brown with black center.
His paw pads we a lighter brown and fuzzy like a faux fur, very short fur, under that was a plastic bit that wore away over time. now there is this greyish fabric that is like jean? is too is starting to become worn. There are small beads inside his paws, all 4. He is filled with some kind of cotton like fiber, I am not sure if it is real cotton or polyester like substance.
The orange is from when I was a kid and I fell asleep with him and he fell off the bed onto a space heater (when people still had those)
He is very unique because he is floppy, not stiff, he can not sit up on his own but is the perfect cuddle buddy!
I have more photo's than it would let me upload if someone is able to ID him with more info let me know!
If anyone has any information about where he may have been made or about where I could get another one I would be so happy!