Can someone identify my white bear?
by Skylar Stulak
(Buffalo NY)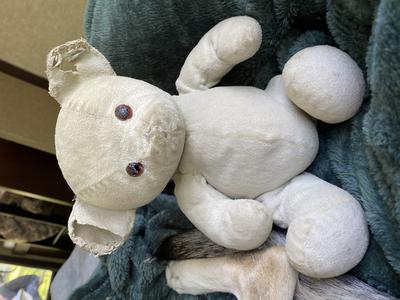 White teddy bear
I received my teddy bear when I was about 2 years old in the early 2000s. Probably around 2002 or 2003. The person who gifted it to me has said that they got it from a department store like Jcpenny or Bonton. We have not been able to find the bear anywhere else since then. The tag has worn off but if I remember correctly it was colorful, possibly had balloons on it. My bear also cane with a bow tie that got lost years ago. He's very loved and I hope to find another one of him.
Join in and write your own page! It's easy to do. How? Simply click here to return to I.D Your Bear.
If you enjoyed this page, please consider sharing
 it with your friends: