Chad Valley Bear I.D.
by Yvonne Downard
(Chesham, Buckinghamshire)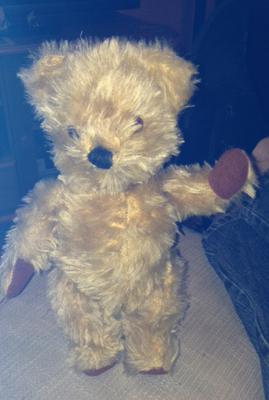 chad Valley Teddybear Standing
Chad Valley Teddy bear bearing label under left arm on side of body reads: Hygienic toys Made in England by Chad Valley Co.Ltd.


I have had my teddy bear for aprox a year and a half after winning him at a raffle. I have no idea how old he is. He has a short muzzle, stitched nose, his eyes are amber and brown or black its difficult to tell and made of plastic, he is quite hard but I don't know what the filling he has inside of him. He has a growler inside his tummy which still works, he is 12in or 31cm tall when standing, his paws are sort of brown/rust and made of felt with a hard backing to them. His arms and legs are jointed.
He is in good condition. I would love to find out how old he is and how much he is worth. I have attached pictures.
Reply
Hi
Chad valley started to use plastic eyes after the 1950's. On early bears the label was on the foot. My feeling is that this bear dates from the either the late 50's to early 60's. Although i can find similar looking Chad Valley bears from this period, I can't find one that mentions a growler. You must remember that these bear companies produced many different designs and many were based on a similar design.
Unfortunately there is no way to value a bear as they are only worth what they last made at auction. So only a auction house can estimate a cost. Vectis is a auction house that specialises in toys.