Chad Valley Teddy Bear?
by Amy
(Idaho, US)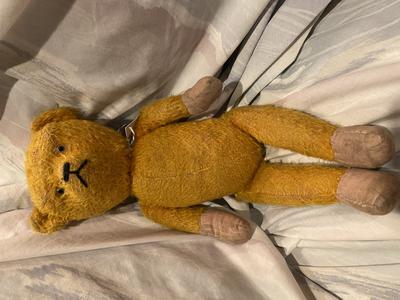 We bought this bear at an antique store in Montana last week. It was sold as a 1930's Chad Valley Bear but we are unable to match it to anything we see online. There are no labels or buttons. I don't see a hole anywhere a button could have been, although the right ear seems bigger and may have been stretched out by a button. We think the eyes are glass, but not posittive. He is about 14 inches long. We think it's mohair, kind of a golden color. He is quite worn. Limbs are disc jointed. His nose is horizontally stitched. His mouth is an inverted 'Y'. There is a section of stitching on the back seam towards the top that seems hand done. He feels crunchy when you squeeze him, and through a small hole we can see the stuffing is Wood shavings or wood wool, according to what I've found on the internet. The coverings on his hands and feet look like they were originally light pink. I haven't seen these types of hands or feet anywhere on line. I have considered it may be a repair; however the stitching is uniform, small, and consistent. There are some repairs done on the limbs that are large and coarsely done. The stuffing in his hands and feet feels the same as the other stuffing in the rest of his body.. I have combed the internet for days looking for a good match for this bear and have been unable to find a good match. He does not have a hump. The legs, arms, and head all move. He does have a squeaker.that still works, it is located in the upper half of his torso.. we did try using the Just Answer website but haven't received a response.. he does have a center seam on the front and back of his torso. His arms reach just slightly below the tops of his legs. He has two seams on the back of his head. His snout does not seem to be a separate piece added on; there is just a seam going from his neck to the bottom of his mouth. Does anyone know anything about this bear? Has anyone seen a bear with paws and feet like this? Thanks you!
Join in and write your own page! It's easy to do. How? Simply click here to return to I.D Your Bear.
If you enjoyed this page, please consider sharing
 it with your friends: