Charity Shop Bear
by Elizabeth McConnell
(Ayrshire)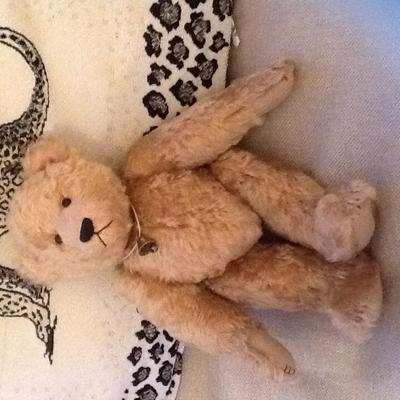 Charity Shop Bear
Hi


I bought a lovely little bear today in a charity shop, it was just sitting there looking really lonely, with its long arms outstretched at everyone passing it. It doesn't have a very happy face.
It is golden brown and appears to be made of mohair, it's paws seem to be a kind of felt. It also looks like it has been hand sewn, but I cannot say this for certain.
It's length is approximately 30cm when lying down, all limbs move, the head can move a little from left to right and right to left but not all of the way round.
The arms are approximately knee length to the bear.
It has a small brass bell round its neck, which although small is quite heavy, this is tied on with a thin cotton style string.
There is a small hunchback just under the neckline on its back. Although the bear is quite small it is really quite heavy, with quite a heavy dense filling in the bear.
The eyes seem to be black glass, again I cannot be certain, the nose sticks out and has shorter courser hair on the tip of the nose.
There is no number on the bear that I can see, however, there is a label which read; "Blackeye Bears by Jennifer Stephen Exclusive and limited Edition Collectors Teddy Bears
It is difficult to gauge the age of this teddy, it does not look like it has been played with much, it is in excellent condition with no bald patches, it also has a very sad looking face.
I would really like if you could possibly give me some information on my bear. I paid £8, for him, the value is not the most important thing, but I would love to know its origin and whether it is quite new or old and if there is a story behind it, especially with its little hump and bell round its neck.
I am delighted I saw this little bear and picked him up.