Charlie is an Old Steiff, but not sure of what year
by Holly
(Prescott Valley, AZ USA)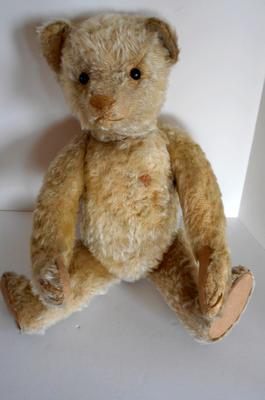 Charlie is an Old Steiff
This 11-inch old Steiff bear came to me when I bought a bear shop in 1984. One day an older lady came in and told me she was ready to sell her Steiff bear. Apparently, the former owner had wanted to buy him, but she did not want to sell at the time. The bear actually belonged to her late husband as a child. He had stored it safely in a safe to keep it out of harm's way. The lady told me that her husband had died and the only person to leave the bear to was a niece who cared nothing about the bear and would throw it across the room if she gave it to her.


I fell in love with the bear and promised her I would take the best care of him. It took me a year to pay her for him in monthly installments, but true to her word, she brought him to me when I made the last payment. He had a bit of old candy on his chest, but I carefully gave him a light cleaning with bear-approved solution. His true color was a bit brighter than he had been and I got the candy off of his chest although it left a small stain. Ok with me as it is part of his history. His name is Charlie. He has no button or identification but from what she told me she thought he is 1905 or 1906 original. I did have him appraised at a Linda Mullins Convention in the mid 1980s, so his heritage was affirmed. But I am not sure of his correct year or his current value.
He has flat felt feet. All felt is original. Glass shoe button eyes. No repairs. Very well taken care of.