CHubby Cub teddy bear
by Graham Thornton
(Sussex, UK)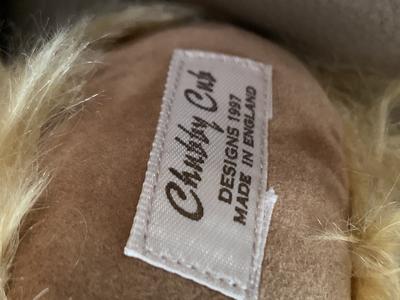 CHubby Cub label
I have recently purchased this bear, it has clearly been sitting on a shelf in a shop for a long time, the label states CHubby Cub Designs made in 1997, this fully jointed 20" bear is said to be 1 of 100, it was swede pads and the body appears to be bead filled though the arms and legs are more solid. It is a heavy bear and wears an outfit believed to be made by 'Adams', in the Brest pocket is another bear about 2.5" high with a line label marked 'Little Cruffs' again a jointed bear which has a fitted necklace with a non-working bell plus as you can see from the image the eyes are orange with a black pupil as opposed to the larger bear with fully black eyes.


My research so far came up with the following but may not be related at all, designer bear maker Fiona Smith and a label known as 'Absolutely Bear' A similar structured bear went to auction in America so possibly of American origin this had an estimate selling price between £30 and £70, we paid £150 for our bear to give it a new home as it is a nice looking bear and unusual with the pocket bear so and details you can offer me to give the bear some origin would be very helpful.
Join in and write your own page! It's easy to do. How? Simply click here to return to I.D Your Bear.
If you enjoyed this page, please consider sharing
 it with your friends: