Circa 1956 - Tuxedo Bear with Felt Lapels and Tails
by Bobby Levi
(Oklahoma)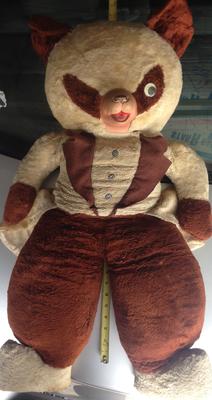 Front
This bear is tall at 36 inches. His head is 12 inches wide by 10 inches tall, his waist his 10 inches wide and from the outside of one thigh to the outside of the other thigh is 16 inches.


At the widest point, his ears are 5 inches tall by 6 inches wide.
He weighs eight pounds
There are no visible labels or tags on him. He was referred to by family members as the "tuxedo bear," due to him sporting a brown felt lapels and cream colored tuxedo tails. The inner lining of the tails is satin, I am unsure of the outside material of the tails, only that it is a different material than the rest of the bear. He has three vest buttons. They're black and white swirled buttons sewed on with a matching thread. The eyes are 1 and 1/16th " in diameter, I think they're called Googly eyes.
His nose is made of rubber, all with the original paint. He is missing one eye.
He was originally acquired brand new somewhere in Oklahoma. My father-in-law won this bear for his then girlfriend at either a traveling circus or a county fair, before they were married and they were married in 1957. The assumption is that given their ages in 1957 when he won the bear, it was probably acquired around 1956.
If anyone can shed any light on his origins, it would be greatly appreciated. I'd love to find out who manufactured him, when, material used, etc. My wife would be thrilled if I could provide her more details about her Tuxedo Bear!
Thanks in advance!
Bobby Levi
rlslgy@yahoo.com
If email addresses are forbidden, please forgive me and strike mine out.