Cuddles Time Bear
by Amelia
(England)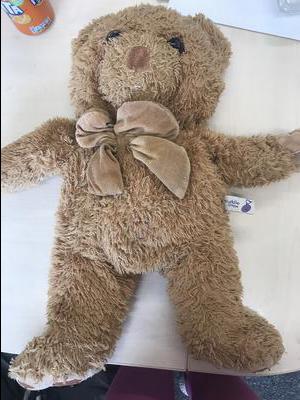 I've had my bear since early 2011, and it was my sister's before then, so it is definitely more than 10 years old.
This bear has a saturated brown coat and a tan bow on its chest. It has a dull red for its nose, and a muzzle of the same colour of its coat. Its front paws are tan and have white string for the claws. Its back paws are tan too, with the same white string. However, the back paws have maroon patches, which I assume to have been fuzzy, like the cheeks of a modern Pikachu plush. Its irises are a very dark brown. Its back isn't much, just a stubby tail. Its tag says "Cuddles time" with a purple locket beside the text. The backside of the tag has the Cuddles Time logo in purple again, and text; "TO EN 71&BS5665 TOY SAFETY STANDARDS SPONGE CLEAN ONLY. FOR AGE 3& UP U.K.I.C LTD., MANCHESTER M8 8AT MADE IN CHINA".

I hope you can identify my bear!