cute well loved teddy rescued from an auction house
by Julie
(England)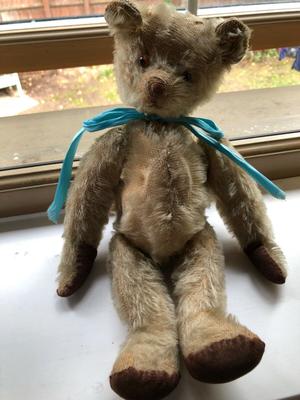 cute well loved teddy
I thought this teddy I bought home from an auction was just a very tatty old teddy. I paid £15 for 3 teddies including this one. I put it up for auction on ebay and was overwhelmed with people asking questions and bidding, so I started thinking there could be more to this teddy than meets the eye.


He has glass eyes one is falling out, both ears are coming off, I think he has had new pads sewn on his paws at some point, his hair is very worn.
It looks like it has a growl fitted but it does not work, the arms are very long and you can make him stand on all fours, he has a hump on his back, the joints are all movable and he has circle cardboard joints, I think his fur is mohair but has faded, when I look at the areas that have not been exposed as much it looks like it was a gold colour.
the nose is brown and sewn on, I think he has sewn on claws in brown but these have been covered by the material used to repair his paws.
He is filled with straw although this is depleted in places, he is sewn up the middle at the front and back. the wear to the fur is not as bad at the back as it is on the front.
He is 12" long, has loads of character and has obviously been played with and loved by many generations of children so Im wondering if he was made in the early 20th century. There was nothing in the description at the auctioneers to suggest he may be a Steiff has anyone any ideas who may be the makers if it is not Steiff, he doesnt have a button in his ear so thats why I have doubts, but he does have the look in the face of a Steiff from different pictures I have seen of them.
I have been looking on different sites to see who he was made by and different things I have read are making me think he could be a very old Steiff teddy, is there anyone here who could give me some information, Id hate to sell him off at a very cheap price if he is a steiff and would rather keep him in the family, I have a granddaughter who already loves him even though he hasnt been in the family long, and it would be nice for him to have a long term home at last, looking forward to hearing your thoughts, thanks in advance Julie