Dark Brown Bear possibly 1950-1960s
by Tracy Polega
(Shelby township, michigan)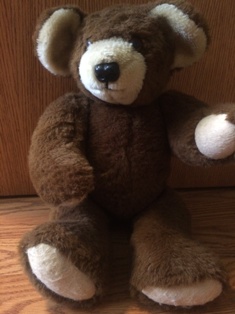 Teddy Bear Front
I have had the bear since 2006 It was given to me as a Christmas present by my aunt and she told me it was antique.


The muzzle is long definitely not short or flat.
The nose is a molded plastic piece with nostrils.
They are plastic and black in the middle surrounded by brown/amber
The bear feels hard when squeezed. Not sure what it is stuffed with, I would surmise scrap cotton waste or kapak.
The bear is 11.5 inches when sitting and 17 inches when standing.
He is fully jointed with a swivel head.
No hump, the bear is a dark brown color with tan pads. It feels soft and most likely synthetic.
My aunt gave it to me as a Christmas present back in 2006 and told me that it was an antique bear worth a lot of money. Back then I didn't think/care much about that, but now I am really curious as to how much it is worth, or if it is even worth anything at all.
Reply
Hi well there really isn't a lot to go on here I'm afraid. The fact that he has synthetic fur, plastic nose and eyes and you haven't mentioned a label of any sorts would suggest that yes he may have come from the 1960's but is likely to be a mass produced bear.
It is a bonus that he is fully jointed but his finish does not look of any great quality. No paw stitches etc.
An antique bear would be a bear that is over a hundred years old. A collectible bear can be any bear that is rare and made by a well known company etc.
Unfortunately from the look of him I can't say who made him. Labels are everything in the world of teddy bear collecting and this is especially true of mass produced bears from the 1960's onwards.
Sorry I could not help in his Id. Maybe someone else will be able to help.