Does anyone recognise this chap?
by AnnMarie
(Ireland)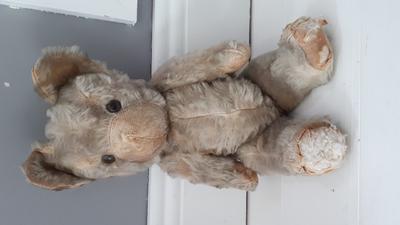 old teddy bear
I bought this bear from a curiosity shop when I was ten years old. Forty seven years later I would like to know more about him. He was old when I got him and although he is a little worn in places, his head and limbs move fine and his body is firm and sounds like straw to touch. There are no manufacturer markings on him and he is 15 inches high. If anyone can shed some light on his origins it would be very much appreciated. Thank you.
Join in and write your own page! It's easy to do. How? Simply click here to return to I.D Your Bear.
If you enjoyed this page, please consider sharing
 it with your friends: