Does This Bear Come From Austria?
by Caroline
(Denmark)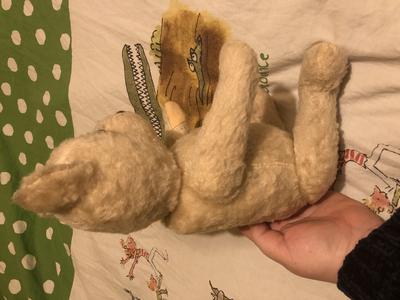 Austrian teddy bear?
This bear was given to me as a child (30 years ago), by a family friend who came from Austria. I have no idea about where or when this bear was bought, but I'd love to know more about him!
He crackles when I touch him, so I assume he is stuffed with wood wool, but not sure? He has light pink/peach felt pads on all paws, but no signs of any claws. He is fully jointed and has a small hump at the top of his back. He has 4 seams on his body - one at the centre of the back, one at the centre of the front, and 2 side seams. His nose is black and stitched vertically. His eyes are cold to touch so possibly glass, with black pupils and a sort of orange/green colour behind. He also makes a noise when tipped forwards and backwards, it doesn't sound like a growl but perhaps was at some point. I can't find any labels or identifying tags on him and he is quite bald on some parts on his body.
Join in and write your own page! It's easy to do. How? Simply click here to return to I.D Your Bear.
If you enjoyed this page, please consider sharing
 it with your friends: