Edna's Mothers Bear
by Rod
(Vinton, Iowa USA)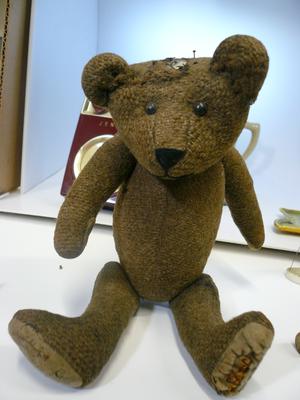 very old teddy bear
This bear was purchased from the estate of a sweet 97 year old women who had a doll and this teddy bear marked as her mothers. That would put this bear late 1800's if that is possible.


The bear is a wool like material but yet a little fuzzy like mohair. Measures about 10" tall. Hinged arms and legs attached with small metal buttons and metal and a stiff wire going into the bear. I can't quite see how the head is attached. The pads of the paws and feet are a lighter colored felt. The inside of the bear as you see through the worn feet look to be stuffed with straw or wood shavings? Small round eyes are glass. Has had what looks to be a few stitched repairs over the years and the felt pads have worn through to show the fill especially on one foot. A medium colored brown. Really all the material has held up very well considering how old this appears to be.
The family were early pioneers of Iowa and settled in Benton County in a small town called Brandon. While going through the estate i also found photos of Edna's mother with the doll that was with the bear. The doll was a late 1800's Armand Marseille so i have no reason not to believe this teddy could be that old, however i saw information online which puts the first Teddy as 1902. Perhaps this is homemade?
I am not very familier with Teddy Bears but the way it was stuffed and formed seems like it would be difficult to make one at home and i would think it would be stuffed differently. I would appreciate any advice on determining the age and possibly the make of this adorable well loved Teddy Bear. The body of the bear is about 4-1/4" long and becomes much narrower at the bottom. Legs are 3-1/2" long and the arms about 3-3/4".
I have tried looking up the first Teddy Bears and did see an ad illustration of a similar looking teddy that was also 10" long. The ones i see looked a little fluffier but had very similar eyes, nose, and mouth. Also the shape of the body, limbs, and even that padded felt feet were very much the same. The buttons used to hold the bear together are small two holed buttons that look steel with a diameter of about 1/4" with the button on top of the head slightly larger. There would be six buttons in all but one of the leg buttons is either missing or pulled into the leg. Hopefully i have come up with 400 words to describe this bear because knowing very little to start with that is about all i can think of. Thanks for any help.