Finding Teddy
by Kodie Hale
(Midland, Michigan )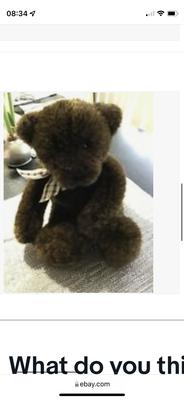 This is the GUND Maxwell Bear that looks a lot like Teddy.
Hello!


I'm looking for a teddy bear that I had as a little girl. When I was a baby I was in and out of the hospital frequently and on one of these trips I was given a teddy bear. This bear was by my side and I slept with that every night throughout my entire childhood. However all of my childhood belongings were in storage and unfortunately I lost them. I always wanted to share Teddy with my future child. Aunt, as that time is getting closer and closer I have been struggling more and more with the fact that I have not been able to find his twin in all of my research. I'm hoping someone on here may be able to help me and thank you to anyone that tries in advance.
Description:
He was approximately 12 inches in size.
Dark brown/chocolatey fur that was slightly rough but still soft in texture, I'm not sure if this was because of being washed.
Weighted, he wasn't just stuffed
Sewn brown nose
Glass eyes that looked brown, but you can tell are amber when looking closer also seemed smaller covered by fur
Two or three rough feeling tags on his bum. Writing was black and font looked unique. 1 tag was larger/medium size, other smaller
Neck Ribbon that was narrow and checkered in a milk chocolate and cream color. Was not silky.
I have done extensive research and believe this was a GUND bear. I will share pictures below to share and idea of his shape/design and similarities.
I was born in 1996, so the Teddy would have maybe been donated to the hospital sometime around then. I'm thinking he could have a manufacturing date anywhere from a late 80's to 1997. However, it wouldn't be from any later than that.
Other thank that I don't know what information to share here, but I do want to say thank you again to anyone who his able to help me figure out what bear I owned. I recently bought the Gund Maxwell bear, but it had some issues that didn't match Teddy. For example his neck ribbon was too thick and short. His nose was black instead of dark brown and his fur also had, I think, too much black in it. The Maxwell bear also was not weighted and he was too big at 17". Aside from that it almost looked exactly like Teddy from the picture.
Kodie