First World War Teddy Bear ?
by Yvonne
(Cornwall UK)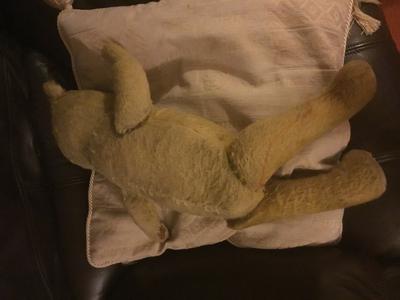 First World War Teddy Bear ?
At the end of the second world war 1945 my mothers friends husband bought back a teddy bear from Germany. It must be at least 75 years old if not more. I still have him he has long limbs a pointed noise a hump in his back but he has lost his growl he has been well loved and has some wear to his fur and feet. He is straw stuffed and has his original eyes. I can remember pestering my father when I was about 9 or 10 to take the stud our of his ear as it was hurting him. In hindsight ''tis was a big mistake as it could possibly be a Steiff. I have been trying to find someone close by me who could look at the teddy. Bear to ascertain whether it is indeed a stiff and what it's value might be. I am now elderly and would like to know more about my teddy bear so that I can decide what I should do with him. Thank you for taking the time to read this and I hope someone might be able to help.
Join in and write your own page! It's easy to do. How? Simply click here to return to I.D Your Bear.
If you enjoyed this page, please consider sharing
 it with your friends: