Four Found teddy Bears
by Char Colborne
(Johannesburg, Gauteng, South Africa)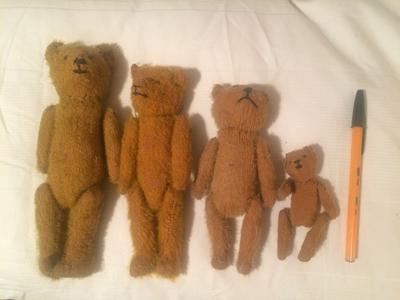 Four Found teddy Bears
I am hoping you can help me with these bears. We found the bears in a hidden compartment in an old chest, the chest belonged to my Grandfather and Grandmother who came from the United Kingdom in 1918 to South Africa and then went up to Zimbabwe on an Ox wagon. It is one of those old wooden sea chests with the metal plating. It looks exactly like the kind of chest you would find in a pirate movie. We didn't find the bears until about 15 years ago when we discovered that there was a section of the chest that we hadn't noticed before that could in fact be opened.


In the little compartment we found four small bears. Three of the bears ( the smaller three) all have black woven eyes, the fourth and bigger one has eyes that are a blue bead with a smaller black bead on top. I am sure these beads are glass beads. They all have black woven noses and woven mouths. Their limbs are joined to the body with a piece of wire.The wire comes out of the body goes through the limb and then is bent to go back into the limb, just like a hook. I believe their filling is kapok it does not make a crackling sound when you squeeze it, and I am pretty sure that they are made from mohair which is looking rather bald on the two smaller bears I'm afraid.
All the legs have the stitching down the front and none of the bears have toe mark stitching on the their feet. The bodies of the bears don't have seams down the front of the body. The largest bear has repair stitching to his neck. I presume at some point he may have had his head detached. The smallest bear has quite a bit of repair to his face. And his little ears are very tattered.
They don't have labels on them and don't seem to have had labels at any point. The legs and arms can be moved but I try not to move them because I am not sure of the condition of the wire holding the limbs on.The heads move as well but I don't like to move them too much.
The largest bear is just a about one and a half the size of a standard BIC pen, while the little one is just over half the size of a standard BIC pen.