French Bear with a Loose Head
by Cindy Loevenich
(Lalinde, France)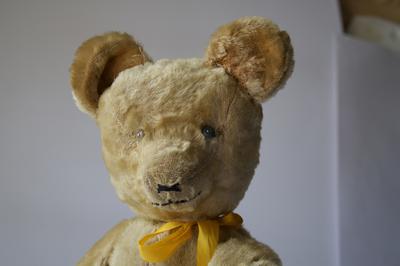 French Bear
Am wondering if anyone has an idea of how to tighten down this guy's head at the neck joint?


Love the smirk he has on his face. And his button eyes don't match. He's been sewn back together on his left ear, his chest, and his back. His arms and legs are stuffed with something soft, not excelsior. HIs body is very hard, and his head is quite firm too, but is squeezable. His head, arms and legs swivel. His left hand still has his claws sewn on. His nose and mouth are sewn as well. He measures 44 cm long (17.25"). Sourced in southern France near Pau. No idea how old he is.
Would love for his head to be more stable, but have no idea how to do it. His head has what looks like a wood disk that the fabric is wrapped around. Then the top of his body (where the head attaches) also seems to have a disk under the fabric. His head is held on only by a central metal rod and flops to and fro.
Any words of wisdom are greatly appreciated.
Cindy