French Teddy Bear Help needed to identify him.
by Rob
(France)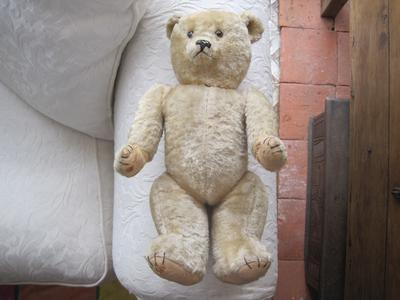 French Teddy Bear
Hi all.


Here is my bear that I just bought in France. Coming from France may suggest that it isn't German. He is filled with wood shavings & has glass eyes. He is hand stitched with a central seam. The nose is made from a piece of woven material & then stitched to the snout. Pink felt pads with thread claws stitched on. He does have very chunky legs & to me looks quite distinctive. I think that his fur is mohair. he measures about 15" tall. The lady I got him from thought 1950's, another lady said when I was walking around(it is amazing how many people chat to you whilst carrying a bear!)thought it earlier & 1940's. I have no idea! Any help gratefully received. Many thanks
Join in and write your own page! It's easy to do. How? Simply click here to return to I.D Your Bear.
If you enjoyed this page, please consider sharing
 it with your friends: