French Teddy Bear
by Cindy Loevenich
(Lalinde, France)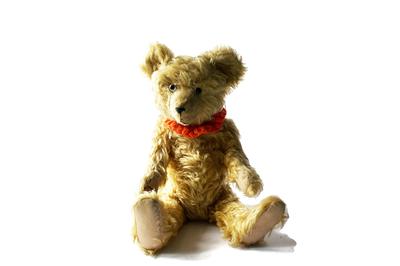 My gorgeous new teddy.
I purchased this gorgeous guy in southwest France. I'm assuming he's French, but well could be another European make.


Here's what I can tell you about him:
* He is around 55 cm long (21"), so quite large.
* He is covered with long fluffy honey-colored hair.
* When I click his eyes with my teeth, they sure sound and feel like glass to me, but they are not round like marbles, they are flat on the back with the little bobble to sew them on.
* His nose and mouth are stitched on and his muzzle is in shorter 'hair' than the rest of his body. Feels like mohair, but what do I know?
* His ears are quite distinctive (and really cute, I might add!) They are almost half-circles and attached as you can see.
* His right paw is ripped open to expose his innards. Wondering if this is the excelsior that historical sites mention?
* His head, arms and legs are all articulated and the disks feel like very firm cardboard or plastic.
* His arms are very long and his feet are huge.
* The pads of his feet and hands look like felt.
* The only photo I can find that is somewhat similar is the 1918 Misty bear, but mine does not have 'claws' embroidered on the feet or hands. And the nose on the Misty is larger.
Any ideas on age, country of origin, manufacturer, or value are greatly appreciated.
Looking forward to any responses.
Thanks very much,
Cindy