From original owner who was born around WW1.
by Thomas
(Clifton, Va USA)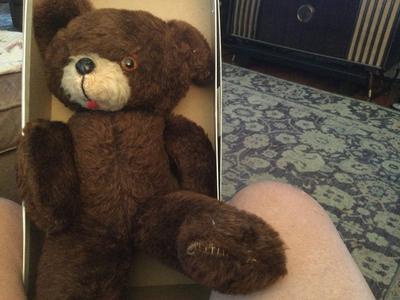 Brown bear in near perfect condition with no tags, no dirt or damage of any sort nor any bad smells about 15 inches in length. Eyes look like glass and at least are semi round. Head swivels, limbs are free and no metal frame noticed. Stitching is prominent without fraying. No idea on stuffing or type of material on the outside of this rare looking bear. I write here to get some feedback from those of you in the bear community who know more than I about collecting these cute animals. I am not a collector or a buy/sell person just came across this little bear as a gift from a neighbor, now deceased. She was born around WW1 so bear is likely a 1920s production or earlier. I'd like to sell the bear but I am just not sure of its value know nothing about such animals, stuffed or alive.
Join in and write your own page! It's easy to do. How? Simply click here to return to I.D Your Bear.
If you enjoyed this page, please consider sharing
 it with your friends: