Gave A Teddy Bear A Home - Who Is He?
by KJ P
(Pittsburgh PA)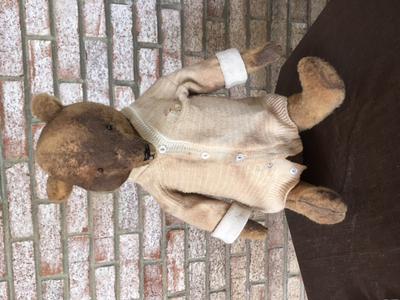 long nosed teddy bear
I found him in a local antique shop needing a home. Owner said he came with the sweater and she had purchased a lot of vintage things. He is NOT jointed and there is very little visible stitching except for one line on the bottom of his paws, up the center of his chest, and where his head and limbs are attached. His nose is stitched. His eyes are like two hard dark brown beads. There is a hard substance, like a splash of mud or dirt on his face, hands, and paws. He sits about 15" high and his arms are about 8" long and stiff. There seems to be some heavier, crunchy stuffing in his bottom to make him sit. Maybe a good fake?? Thank you.