German teddy Bear
by Evelyn Dewitt
(Desoto, Tx)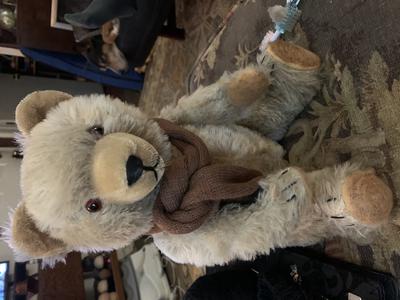 In shop. Note pads.
Believe from Germany. Not sure as I have no verifiable provenance.


Found sitting nicely in the back of an "antique store" in Waxahachie , Tx. which is an area of German decent.
Pads very deteriorated. Real Mohai of silver /light tan color. Mohair a bit threadbare in some places but good. Somewhat dirty. Ears hand sewn on.
Back seam hand sewn..
Glass amber eyes. Slightly hump back. Hand stitched nose and mouth paws. Head turns and limbs jointed .
Wood filling. Very sociable. Pleasant attitude.
Have him a careful "suds" bath and a gentle brush . Seems to be very pleased now.
Any idea of age of this fellow? I know he is not a valuable or ancient bear but goes seem to have been taken care of and pretty old. 1940's???
I do not collect these guys but saw him and he wanted to go home.
I have needle felted him new pads for his feet and honestly he looks great.
I have no kids or grandkids so he will have to jut keep me company.