Giant lion
by Biddy Rupino
(Hampshire England )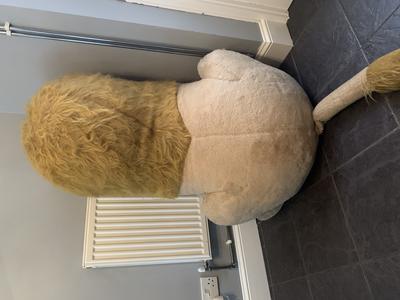 From the back 89cm
This giant lion has been with me for 30 years, it was with my aunt for 5 years before that. The lion was won in a raffle many years ago. After my aunt had her first child she put the lion in her daughters bedroom, but this scared her too much so I took the lion home with me. Sadly this lion has been wrapped and stored in my attic for many years and it's time to find a home. The front legs are a bit saggy and sounds like it may have sawdust in them. The rest of the body is quite firm and also sounds like sawdust. There are no holes or rips around the body. I am in able to find any tags or makers identification to say where it was made or who by.


Hight is 118cm
Circumference is 240cm
Width is 89cm
I'd like to sell this Giant lion and give it the chance to be loved. But I'd like to know what it's worth and if there's any history that can be learned about him.
Thank you x
Comment from Site Owner.
Hi I'm afraid valuations of toys is extremely difficult. You would have to contact a specialist toy auction house who may be able to help. I would say though, I have never seen a toy lion like this before, so you never know it may be rare and worth a little bit to someone.
Join in and write your own page! It's easy to do. How? Simply click here to return to I.D Your Bear.
If you enjoyed this page, please consider sharing
 it with your friends: