Golden Mohair Teddybear With Growler
by Angela Nicholls
(Cheshire, England,UK)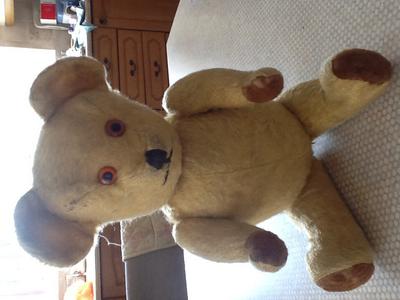 Old bear
Found this old vintage teddy bear in a charity shop today. Can you believe I only paid a pound!!! He is eighteen inches tall and his fur, including his paws are made completely out of mohair. He has wooden joints in his arms, his legs, and his head, also his eyes are made of plastic and they are orange and black in their colour. His paws are brown and he does not have any claws. The rest of his body is golden brown. He has visible seams down the front of his body and his arms and legs. He has a working growler which is in his stomach. I think that his body is stuffed with straw and his arms and legs with wool but I can't be sure. I am quite unsure as to what company he is from as he has no label and no markings on his feet either.


Hi
Well I have done some looking through my books and a little research online and my best guess is he could be a British Lefray bear. At first I thought he could be a Early Chad Valley bear but his arms are quite short and his ears are a little larger than Chad Valley.
Your bear does look rather battered and I do wonder if he may have some repair work done on his nose, ears and eyes. This can make it even more difficult to ID him.
I cannot give a definite ID but due to his short arms, large flat ears and general look he does look like a Lefray to me.
Lefray was established in 1948 in London and was last trading in Wales, may even still be trading.
In any case he is a great old bear and what a find at only £1. \it is hard to find nice old bears for a reasonable price, as everyone thinks that all old bears must be valuable. Unfortunately in most cases old bears are only worth what someone is prepared to pay and without a label most collectors are not that interested.
Kate