Great grandmother's mohair/wood wool teddy--any info?
by Claire
(Northern California, USA)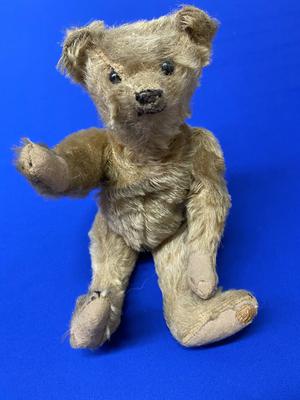 Image 1
This teddy bear was in a box with my great grandmother's items from her childhood home (circa early 1900s) in California. From what I can observe, it is Mohair and wood wool. The arm, leg, and neck joints are metal which allows them to move and be repositioned but the rest of the body, arms, and legs are crunchy/soft.. There is bit of bright red fabric at the neck which may have been from an old label or tag (?). It is approximately 10 inches tall standing and 5 inches wide. Any information would be appreciated!