Gund Teddy Bears
Gund teddy bears are known for their quality and softness. As the saying goes "gotta get gund" meaning that everyone should have at least one Gund Bear in their teddy bear collection. 
This is my sales page for Gund bears, America's oldest remaining teddy bear company. 
Enjoy
Bogie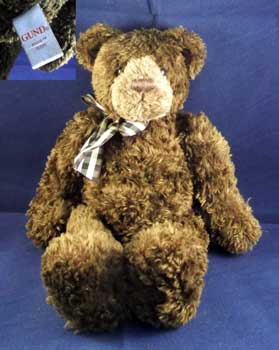 Condition: Like new 
Size: 12" from top to toe 
Description: Bogie is an incredibly soft and squidgy bear, designed to be hugged as often as possible. 
He has floppy arms and legs which are filled with soft filling and pellets. 
Black and brown eyes and a brown embroidered nose. 
He has a very touchable plush dark chocolate brown fur and sports a brown and cream gingham bow. 
Price: SOLD
New Gund Bears
My current favourites are Philbin ( a 18" bears) and Rafferty (14" bear with grey fur). Both look adorable to me but I must admit if you are looking for a teddy bear full of character as well as being so huggable, then any Gund bear from the selection below will fit the bill.
---
If you enjoyed this page, please consider sharing
 it with your friends:
Back to top of this Gund Teddy Bears Page
Back to Gund Bears Page
Back to Teddy Bears Home Page