Hard Feeling Teddy Bear
by Katee
(Rapid City, SD USA)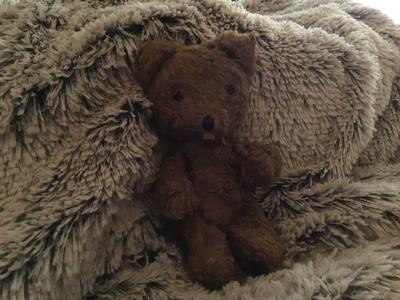 I received the bear from an older friend in the early 70's. Don't remember much else about it, besides it being old. Years later, like 40 years, I came across it in an old suitcase that was salvaged from many moves. I had it with some other keepsakes and treasures. I lost track of the friend in the late 70's, so I couldn't find out any more about the bear.


I will try to describe the bear the best I can. The bear stands seven inches (7" or .18m) and has moveable two inch (2" or 0.5m) arms and ( 2 3/4 or .7m) legs. His fur is solid dark caramel and is all intact. The nose is a little pointy and sewn, and he has a little pink fabric tongue. I don't know if it's mohair, but would think mohair maybe softer. It had a little red ribbon around its neck, and may have even been stitched on with a single stitch below his neck. I could not find the original ribbon. The eyes are ver glossy possibly brown/black. And as stated nose is sewn on with a black thicker thread. Unfortunately, there is no tag to identify where it was made or the brand. The bear's body and head feel solid, and not squishy. I hope someone can please tell me something about my bear.
I am not attached to it and would be willing to sell, if the price is right and fair.