Heidi Steiner 24" Bear With Hump, Growler, Red Paw Pads
by Wendy Bishop
(Sedgwick, KS, USA)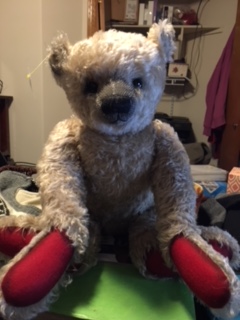 full body
Hello,


I was recently shopping at a Goodwill Store in Lawrence, Kansas and the workers brought out a cart with recently donated items. I spotted this bear on the bottom tier and continued shopping. Initially I thought I would give him to my Granddaughter but after looking him over and finding his tag on his bottom clearly labeled: "Steiner Bears" "Heidi Steiner" "Menomonee Falls, WI U.S.A. Not a child safe toy". The tag is whole, just folded in half and stitched; since I was only able to upload 4 pictures I only snapped one side of it.
My bear is in excellent condition, 24" tall with arms and legs that are movable at the shoulders and hips. He has super soft light brown slightly curly (?) hair and a working growler that scared the bejesus out of my little Pomeranian dog. His nose stitching is vertical and his muzzle seems to be tinted a darker brown and cut close, he has brown glass eyes (I clicked my teeth on them), what is most unusual is his paw pads are a very rich red that looks like felt. His left foot paw is hand signed towards the outside "Heidi Steiner". His body, arms and legs feel like they are stuffed with beads with the exception of his paws and feet, they feel firm.
My bear has no accessories like a hat, ribbons or clothing but to me he really doesn't need those things.
The price I paid for my bear was roughly .75 cents. He was marked .99 and I got him discounted with a senior discount. I already know just from basic internet search that I got a very good bargain for this big bear and now I don't know what to do with him. Because he is mohair (I assume) I am concerned about him deteriorating and I don't want to put him into my cedar chest and be hidden.
I would love to know his name, when he was made, did he have any accessories like a ribbon, hat, clothing or do I leave him as is. I did find Heidi Steiner's page and sent an email but would like to know as much as possible.