HELP! ANYONE KNOW WHO MADE ME??
by GKD
(Charlotte, NC)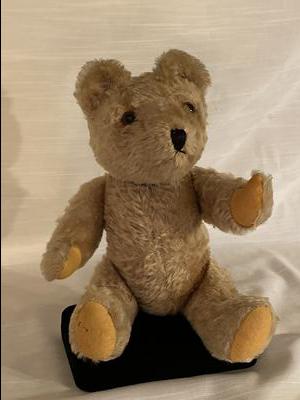 This teddy was given to my child early 1970s and I would like to find who made him. He is a Musical teddy who turns his head left to right while playing John Walton Bratton's 'Teddy Bears Picnic' tune. Initially I thought he was a Chiltern 'Bruin' musical teddy bear then but could not find where Chiltern Bruin's were 13" tall. Then just I recently found on Pinterest a picture of exactly the same musical teddy I have! where he was being sold on the sellers's Etsy store. The posting identified the teddy as "Vintage 1950s Swiss Felpa Mutzli Musical Teddy Bear" so I thought my teddy was a Mutzli, but after looking at other Mutzli bears now I am not too sure.


My teddy has these characteristics:
Fully jointed
Golden mohair
13" tall standing
Vertical Shield shaped nose with long black stitching
Cupped Ears
Left ear has beige threading left from apparently an ear tag, (shown in picture)
Felt padded paws and pointed feet
Amber and Black Glass Eyes
Wind-up mechanism on back
Head turns left to right while playing
Excellent condition other than a few worn spots on him
I would like to find a new home for him and if he has collectible value. Many thanks!