Help! I can't figure out my bear!
by Kristi Mahoney
(Amery Wisconsin )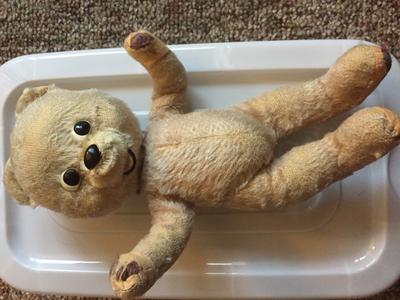 Front
I got him from a thrift store. 9 inches tall and I can feel wires in the arms. He's stuffed with wool shavings and has felt pads on the hands and feet. His eyes are have a separate pupil and white. I can't tell if it's glass or celluloid or plastic. His head doesn't swivel but it could have at one time. There is a plastic or leather "mask"/support behind his face. No markings at all and he is made of mohair. He is adorable and I'm not sure if he is a character or not, I haven't found one like him so far.
Join in and write your own page! It's easy to do. How? Simply click here to return to I.D Your Bear.
If you enjoyed this page, please consider sharing
 it with your friends: