Help identifying large Carousel by Guy Bear 80'`s
by Kevin
(Connecticut)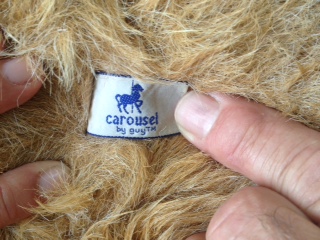 Carolsel by guy label
Hello,


I am writing regarding a large stuffed bear I got for my wife on our 10th anniversary over 20 years ago. It is unlike any stuffed animal I had ever seen and over the years ever seen again. I have yet to find someone who can help identify it or point me to who or where I could get answers when they could not provide any.
I am hoping you can help. I would have provided pictures but my email seems a bit of a problem at the moment for attachments. I am sure it will resolve shortly. I at least wanted to make inertial contact with you so I sent this email.
The bear looks like an actual brown bear like a Kodiak He is in a sitting position like a big furry old man with a big belly in a lounge chair. His body is very large (his height is than our 7 year old grand son) and features life life. His head has incredible life like eyes, nose and mouth that can open. His paws all have life like paw pads. His fur is very life like in color and quality of make.The only identifying mark or tag on him is a tag that Carousel by Guy.
I have google Carousel by guy and tried to researched Carousel and guy and both in same search parameter with out success. Every thing I have seen is smaller regular size bears? The tag is exactly as I described. I am hoping you can help. His condition is very rough now. Maybe, maybe to late.
I hope not and a miracle worker s out there. I also if identified know where I can locate another one or other animals produce like him by the maker. I look forward to hearing from you and I will get those pictures to you.
Sincerely,
Kevin O
Connecticut
Reply
I have found that CAROUSEL BY GUY is a trademark by Animal Fair, Inc. in MINNEAPOLIS. It looks like they made all sorts of items including clothes too.
Unfortunately teddy bears made within the last 30 years are much harder to identify as they were ofen made by either companies that were here today and gone tomorrow or were made by huge companies who churned out products in their thousands.
In yours bears case it would well be that it was a limited edition and so not many were made. I don't know if animal fair still exist. If they do they may be able to help your further.
Sorry I was not able to be of more assistance.
kate