Help identifying my 1938 Teddy Bear
by Ben
(England)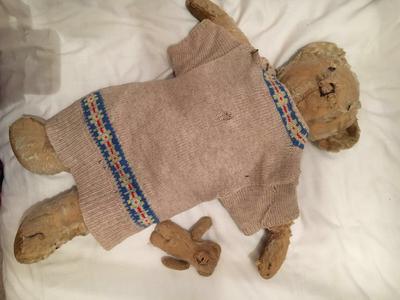 teddy bear in jumper
Hello,


My bear has no markings so I'm unable to identify the maker, He was given at birth by my parents to me in 1938. The Bears name is Barwees given by myself.
Barwees arms and legs fully rotate he doesn't make any noise. Barwees is 23 inches head to toe and 21 inches hand to hand as displayed on the photos.
Tiny Ted has always been his companion. Tiny Ted unlike his big brother does not have rotating arms.
I believe the bear was bought in Falmouth Cornwall where I was born.
The jumper has always been with Barwees as far as I know. There is no markings on the jumper to of which may have gave us a stronger indication as to the history of Barwees.
I have attached some photos in hope someone will recognize who the maker is.
I would like to thank you in advance for taking the time to look through this information.
many thanks
Ben