Help Me Find An Exact Replacement teddy Bear!
by Rose Baker
(Kentucky)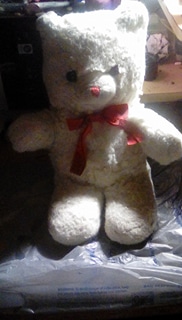 Jenkins Front
The bear in the photo is my best friend, Jenkins. Jenkins came to me 6 years ago from my Great Grandmother from a thrift shop. I am a 19 year old Woman with autism and have a terrible anxiety problem. This little guy is my security item and I physically cannot sleep without him


I have been looking for a replacement for quite some time for the day when I will have to eventually retire Jenkins.
He has dark brown, hard plastic eyes. One of them is cracked from an accidental trip in the dryer. He sports a red bowtie that used to say "I Love You". His fur feels semi-plasticy but is still very soft. His muzzle is full of firm stuffing. His tail is stubby and doesn't have any stuffing in it (or it used to but from age has slipped out into his main body). Jenkins does not have a tag. When I was gifted him it was cut off.
Join in and write your own page! It's easy to do. How? Simply click here to return to I.D Your Bear.
If you enjoyed this page, please consider sharing
 it with your friends: