HELP PLEASE Childhood Bear Identification
by Molly McClure
(Seattle WA, United States)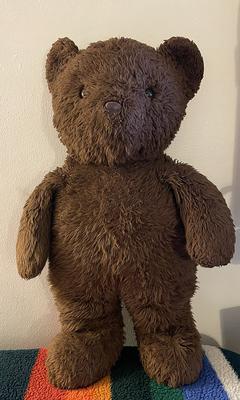 Full Bear
Hello,

Im reaching out to anyone who might be able to identify and find another copy of my childhood bear. I want to find another to get for my child and have searched for years but have no luck, anything helps!

Details:
34 inches tall
Chocolate Brown
Yellow Brown eyes
Brown nose
No mouth
Originally came with sheer bow (green+brown+yellow type color)
There is nothing left of the tag

Got it in 2004/5
My mother said it came from Japan but this is officially unknown

Pictures of type of stuffing, eyes, nose, and bear will be added

Thank you for any information!