Help With Identifying Two Well Loved Bears
by Cerys Mitchell
(Maesteg, South Wales)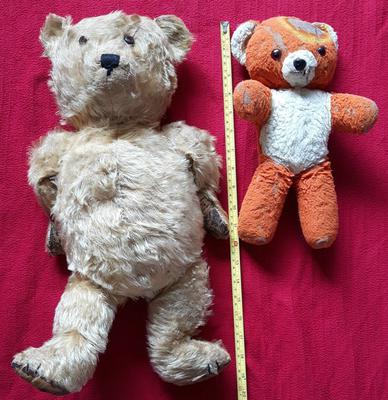 two teddy bears
Thank you in advance.


I can't find anything to help identify these two well loved bears online.
The Smaller orange one was passed down through the family and we have estimated he is well over 40 years old.
The damage on him was caused by a coal fire after he was dropped in a puddle(most unfortunate). He doesn't have any tags, has a plastic nose, is unjointed and under his chin there are threads which may have once held a bow in place. Thread mouth was not originally there it was used to sew up a hole. From the feel of him and what can be seen through smaller holes in his body he is stuffed with sponge. Was originally bought from Portsmouth, South Sea.
The larger bear was recently bought at a charity shop, they believe he used to be a Steiff but without any tags they couldn't be certain and no-one else would give him a loving new home. He is jointed, with button eyes and stitched nose. (unsure if he is mohair) There is a small hole in the back of his ear where his tag used to be.
I'm new to this and interested in learning more about vintage/antique bear classification so any help is greatly appreciated.