Help...the abandoned bear at the bottom of a box
by Sherri
(Canada)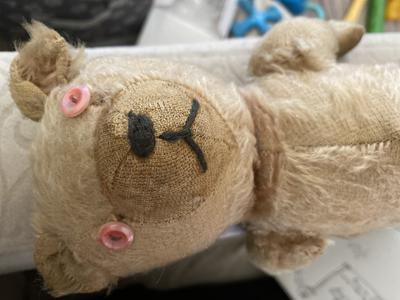 abandoned bear
I received this bear in the bottom of a box. I'm hoping to find out as much as possible as I don't know the history of it. The grandparents came from Germany a long time ago, and that is basically all I know. I will try to describe as best as possible.


Head - One ear is sewn completely and has a bit of hair coming out the other ear has come apart only on the inside. The ears are intact with the head. The head is extremely hard to squeeze. It looks like the eyes were lost and then later on in time replaced with white buttons and coloured pink. I'm wondering if I should remove them. The holes where the original eyes were are very small. The nose and mouth are sewn with dark brown or black thread. The head is moveable.
The Body - the body is easier to squeeze but is still hard. There is a small hole in the middle of the stomach and it looks like some sort of small hard disc inside.
Limbs - All of the limbs are moving. The paws on both the arms and legs have 3 claws sewn in each. There are minor holes and wear on one arm and the soles of both feet. The legs are hard to push although one leg feels easier to squeeze. The inside of the limbs look like shavings of some sort or straw.
Hair - The hair on the bear is patchy. It's soft in some areas and coarse in others. It's light brown or sand coloured. Not much hair around the face area.
Odd notes - the bear is 12" long. There is minor discolouration but it doesn't look to have any stains, but discolouration mainly in paw areas. There are no labels or indication that there were any originally. There are no markings in the bear.
The bear looks to be in pretty good shape minus the two minor holes. The stitching is impeccable. Just really a shame about the eyes and not sure what to do about that problem. It sort of looks like the teddy you have on your page. The one lying down, well you know minus the eyes.
Any help you can give me would be an extreme help.