Hermann Original Teddy Bear
by Victoria Murphy
(Indiana)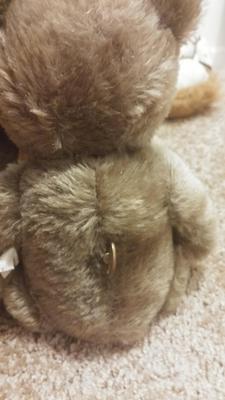 the music box
I have a Hermann original teddy bear and im having trouble identifying it!


He is a greyish brown color with brown plastic eyes and two tags on him. One is a plastic red circular tag with gold text reading: Hermann Teddy Original. the other tag is paper and it reads:
(english side)
All TEDDY - HERMANN plush animals are made by hand in the famous GEBR. HERMANN KG., company west-germany, founded 1911 in Sonnenberg /Thüringen. They are:
* flame retardant
* made of non toxic materials
* fitted with safety eyes and noses
* sponge clean
it then has a stamp reading:
Reg. No. PA-1871
All New Materials
(on the german side)
TEDDY-HERMANN Plüsch-tiere werden von Hand in West-Deutschland hergestellt Und unterliegen strengen Qualitäts-kontrollen.
* schwer entflammbar
* giftfreie Materialien
* Sicherheits-Augen u. Nasen
* abwaschbar
it has a line where the letters:
TBP
are hand written in pen, and under the line it says:
Artikel/item No.
the bear is a music box on the inside, though i do not know the name of the song i have recorded it here:
http://sendvid.com/sve397d8