Is This a 1940's American bear
by Agata
(Canada)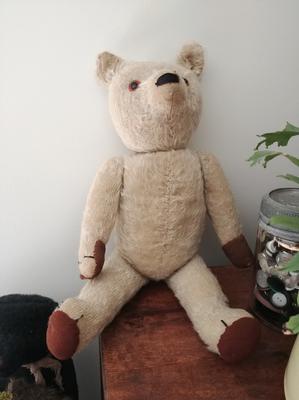 1940's American bear
Hello!

I recently purchased this teddy bear at the antique store. I really would like to identify him. What kind of bear, when was he made, etc.

The price tag described him as 1940's American bear.

My bear is almost 16" tall, fully 5 disc jointed. He has glass eyes. Hard to say if they are original or replaced. Looks like there is a growler inside which does not work. Some remains of claw embroidery. The pads were not original, so I decided to remove them hoping to find some more information. What I found was that only one hand pad remains original in a good shape (the right hand). The rest is completely destroyed. He feels very hard. I am not sure but it looks like he is filled with wood wool.

Could anyone please help me to collect more information about my bear?

Thank you.