Is this a Chad Valley bear
by Harvey Wood
(Derby, England)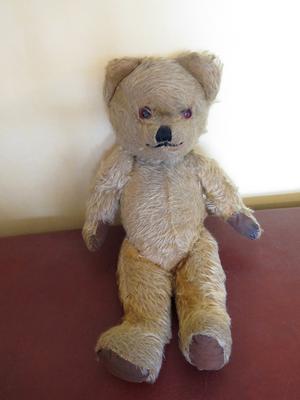 Full bear
I have a brand new teddy bear given to me in the early 1950's by my mother. I can't think of the exact year. She always said it was a Chad Valley bear but there is no label on it which is a problem, I can't ever remember it ever having one and there is no stitch marks or anything to indicate that it ever had one. It is 14 inches tall and has jointed limbs and head. It is musical which still works and plays 'Humpty Dumpty', it has never been over wound. The eyes appear to be glass (feel cold to touch on my tongue).


The ears are on the corners of the head. The nose is stitched with 12 strands placed vertical the mouth is also stitched. The arm paws appear to have black marks of which there are 5 on the left paw. The right paw has a repair job done and I can't detect any marks on that one.
The feet have black marks but I don't think these or the paws represent claws. It in fact appears to have no claws at all. The back is stitched up the centre, the legs at the front, the arms at the back. The head has stitching from the ears to the nose.
The arms are five inches long. The legs are six inches long. The eyes are half an inch in diameter. The pads on the paws are 1 and a half inches long. The pads on the feet are two inches long. The nose sticks out by one inch. Maximum width across the head is four inches. Height of the head is four inches.
The material is fine. I don't know if it is mohair or not. The inside padding again I don't know. It feels soft and yet well stuffed. There is no noise when you press like you would get with straw.
The right leg is slightly askew and always has been from new.
All the joints work well and although the fur is rather worn away especially at the back it has been well cared for and loved. It is now time really for me to part with it as I have no one to leave it to so a good home needs to be found and would really like to know what it is worth if I can before putting it up for sale.