Is This a Hermann teddy bear ?
by Shannon. T.
(Denver, Colorado)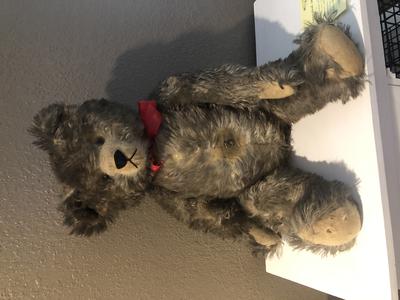 Hermann teddy bear ?
So I just purchased this bear and I am interested in knowing more about it. There is an appraisal with it but I want clarity knowing that this a hermann. The appraisal is from 2000 and states that it is a German bear probably Hermann with music box ( not working ) approximately 1929 excellent condition. How do we tell if it is a Hermann? I have looked everywhere and cant find a tag. Maybe it's not a Hermann? It is about 3 feet tall, and I have been looking but am unable to find one this size, which brings up another question, did they not make a lot of taller bears? The bears I have seen are alot smaller than this or are a reproduction. It's hair is amazing and I am pretty sure that it is mohair. The right foot, or paw, has a small hole and there is straw inside of it. The music box windup mechanism is on the tummy, belly button would be. It definitely looks like it was used as the fur is thinner around it. I am not sure what the eyes are made of. I have read a lot about the eyes, how do you tell what they are made of? On the bears nose there are small little fibers. I told my husband that it's like they sewed stubble on the snout. There is a red ribbon around the neck of the bear and it is unknown if it is original or not. The arms and legs pivot around. I once again am not sure what that is called. The back of the legs seem a little bit more worn probably from sitting down or being on its back. The color of the bear is just beautiful. It is a mixture of browns. From a blonde to a darker brown. My husband says a grayish brown but I disagree 😂. The stitching that makes up the nose is beautiful and in perfect shape. The pads of the paws and feet are a light tan color with the only flaw I see in the bear, beside the music box not working is a couple little marks and a hole , previously mentioned. The ears are soft and curve around. This bear is simply stunning. I really want to know more about it. I thought It was smaller when I purchased it on an online estate sale. It was to sit in a shelf with some other Children's antiques, however I don't think this will fit in the shelf. 😂 thank you in advance for any help you may have. I have been told that the value of these bears have gone down since this appraisal was done in 2000. So that is another question. How do you tell a current value once you have determined what it is. You see the appraisal didn't clarify what it actually is. Have a great and amazing day!!!!!!