Is This A Steiff Bear?
by Ava
(Greensboro )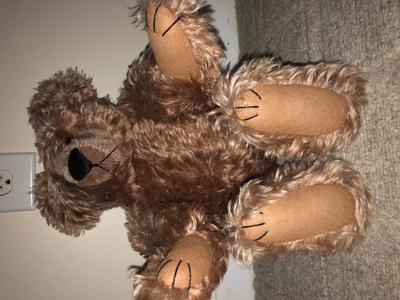 Brown Teddy Bear
My dad found this teddy bear about 10 years ago in a second hand store outside of Philadelphia PA. He knew it was worth more than the 50 cents he paid. It is very heavy and feels old. The head and arms and legs all swivel. He is pretty sure that it is a Steiff but I can not be sure as I can find know marks. It is in excellent condition and extremely well made. I am wondering if the eyes may have been replaced sometime along the way because while they appear to be glass, there is a brown felt tab on each eye. The stuffing in the arms and legs is very firm. Right at the base of the neck on the back there is a hump I really like the bear but can anyone give me an idea on how to further identify him? The fur is brown and a little scratchy and the bear crackles when you squeeze his body. The nice had fine black stitching and the black lines on the paws is also black stitching. The head swivels all the way around . I do not know how to find any seams but when I feel the legs I can not detect any seam. I really would like to know more about my favorite Teddy Bear. If anyone can help me your input would be greatly appreciated.


Join in and write your own page! It's easy to do. How? Simply click here to return to I.D Your Bear.
If you enjoyed this page, please consider sharing
 it with your friends: