Jointed bear with button in ear
by Sherry Penson
(Bostic NC, USA)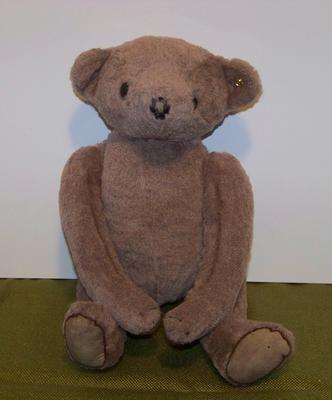 Jointed bear with button
Hello. Very interested in your site. :)


Below is the information I know about my bear and I hope I have included enough info for you.
Jointed - neck, shoulders and legs. All can rotate completely.
No visible tag(s) - He has one gold tone button on the outside of the left ear but it does not go all way through the back of ear. It seems to have been attached before it was assembled.
The button looks as though someone attempted to pry it off as it is humped up in the center, but not evenly and has a tiny hole in the hump. I do not see any markings on the button. Button measures 1/4 inch in diameter.
2 matt black plastic eyes. They also seem to be attached from inside.
The nose was at one time a series of black looped thread of some sort. It is worn off in the center.
No visible signs of a mouth or it has been removed.
He has some of the 'paw print' black thread still visible, but some have either broken or been removed. (See photos)
The fur is super short dark tan in color and appears to have a corduroy type pattern underneath. The fur isn't rough nor very soft. Different in deed.
His paws are of cotton or cotton blend fabric. The brown outline is something I can't tell if it is from the fur itself or was part of the material. (See photos)
He is 12 inches long and stuffed pretty firm and a little heavy for his size, or I think so.
He is very well made. All seems and stitching are invisible and no signs of loose threads or holes.
More in depth measurements I have taken:
The eyes are approx. 1/2 inch diameter and 2-1/2 inches a part across the bridge of nose and 3-1/2 inches from eye to eye directly over the nose.
What is left of the nose measures 1/2 inch across and 5/8 inch long ways.
From ear tip to ear tip across the back of head is approx. 6-1/2 inches wide. Ears are 1-1/2 inches long and 1 inch wide.
Neck is 7-1/2 inches around.
Waist measures 10-1/2 inches around.
Arms are approx. 6 inches long and legs are 5-1/2 inches.
From the neck line to the bottom is 6 inches.
Paws on arms are 1-5/8 inches and on legs are 2 inches.
Please feel free to ask for more details if need be.
Thank you,
Sherry