Jointed Teddy Bear from Sears Roebuck & Co.
by Phyllis Harris
(Missouri, USA)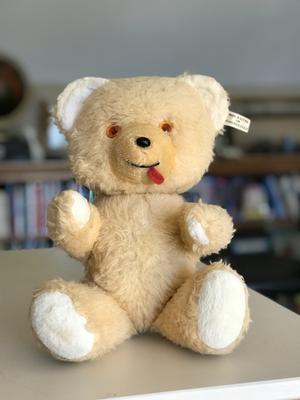 I received this teddy bear as a gift from my parents when I was young but I do not recall exactly when in my childhood so I am not sure of the age of this bear but my best guess would be anywhere from the mid 1960's to 1970's.


This teddy bear has blonde fur with orange plastic eyes and an oval plastic nose. He has a black embroidered smile with a red felt tongue sticking out just below the smile. The teddy's head, legs and arms that are fully jointed. The central part of the ears, paws and pads of feet are a short off-white fur and the snout is short coarse golden fur.
The bear when fully extended is approximately 13" tall.
The tag reads "MADE IN AUTSRIA FOR SEARS ROEBUCK & CO." on the front and on the back of the tag reads "ALL NEW MATERIAL REG. NO. PA. 235".
Since this was a childhood toy, I am not interested in selling it but if anyone has more information about this bear, I would love to hear. Thanks!