Kansas Teddy Bear
by VM
(Kansas)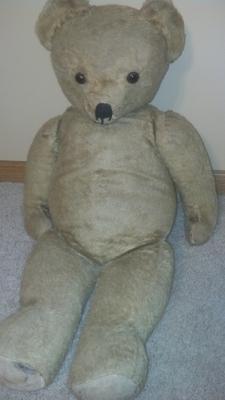 Unknown teddy bear
Unfortunately, I do not know much about this bear. My grandparents gave it to me before they passed away. They were antique toy and doll dealers. However, I never asked them anything about the bear. The bear is approximately three feet tall, a dull tan color and the arms, legs and head swivel. The bottom of the head and the top of the neck are both flat, so the head rests sits on the neck in somewhat of a loose fashion.


The areas of the body where the arms and legs attach are formed in the same way. The section of the body where the appendages attach is flat as is the end of the appendage where is attaches to the body. They also swivel in somewhat of a loose manner. The fur is relatively thin, although I do not know if this is by design from when the bear was manufactured or if it is the result of wear.
The nose and mouth are sewed with what I would describe as a rope type material on a very small scale. The eyes would appear to be glass with a light brown/orange outside ring and then a black circle for the eyeball. The eyes are firmly attached so I am not able to tell in what manner they are attached. I would describe the bear's facial expression as neutral. The mouth does not form a smile, but also does not form a frown.
I would also describe the ears as average in size (neither overly large or small). The bear's forehead protrudes slightly and is somewhat squared off at the temples on the head. The bear has a green bow tied around his neck, but I do not know if it came with this bow or someone added it years later. At the base of the head, right above where the head and neck meet are two stands of thread that I would presume at one time held a tag. However, the tag was not attached to the bear when I received it.
There are no tears of sufficient size on the bear to determine the composition of the with which the bear's body is stuffed. However, the small tear on the bear's right foot reveals a material that I can only liken to the color of the carpet padding that is made of the various colored section of foam and them pressed together. However, it does not have that texture. It appears to be cloth and relatively soft. In squeezing the bear, the stuffing is not overly soft, but is certainly pliable.