Kevin's Teddy Bear
by Lynn A
(Lake Cowichan, BC, Canada)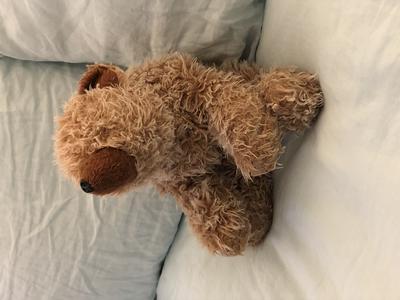 Brown teddy Bear with dark brown Nose
Hi. I'm wanting to know something about my step son's teddy bear. I believe he got it as a toddler. He was born in October 1975 but I didn't meet Kevin until 1982 when he was 7 years old so I'm guessing that Teddy was purchased in the late 1970's for him. My husband passed away two and a half years ago so he isn't around to give me any details. We lived in Victoria, BC Canada. One of my brothers in law was doing a big clean up and clear out of our sailboat for me just last week and found the teddy bear on board and rescued it for me. My husband put Teddy on board the boat after Kevin died so that he would always be with us in one of our many cruises. I had forgotten that the teddy bear was in the boat so was quite overwhelmed when my brother in law found him. I almost burst into tears. I don't think it is a particularly rare teddy bear but it means a lot to me. I haven't done much research about him as I really didn't know where to begin. Your website looked like a very good place to start. I hope you can help me.


Here is some information about this teddy bear. Teddy is 17 inches total length. It is 10 1/2 inches from the neck to the rear end. The front paws are 7 inches in length and are in a slightly curved shape. The back legs are 5 inches or so in length and are wider at the end of the leg than at the upper leg. There are no pads on any of the
limbs. There is no tails and I am unable to tell if there ever was one. There no longer are any eyes but the black, plastic nose is intact. The nose is a comical shape, is darker brown and made of a different material than the body. The ears are also the darker brown colour and that same material. The ears are 1 1/2 inches tall and 2 1/4 inches wide. They are rounded and constructed to make a "v" shape at the base so they have a natural looking curve like a real ear. I don't know what the covering is made of but it is bi-coloured - a honey brown and cream mix. Maybe some kind of polyester fibres? There used to be a collar of some sort as I can see an obvious indentation around the neck. The stuffing is small bits of yellow foam. It's like the foam you used to buy for foam mattresses. There were some little bits sticking out where the eyes used to be.
Teddy was on the boat for a number of years so needs a clean up. I'm not sure what to do about that. There was some mold and mildew inside the boat although there is nothing visible on the outside of him I have some very mild detergent that may be suitable to bathe him in. Can you please tell me what to use and how to clean him up?
I am attaching some pictures to help identify Kevin's friend, Teddy. The pictures show: a couple of full body shots of the bear; one showing an ear and the nose; and one showing some stitching in a seam. Any information is much appreciated.