Koala teddy bear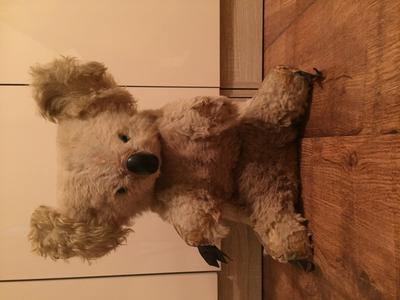 Koala teddy bear
My koala bear is about 18 inches in height.


It is filled with what feels like straw or wood wool.
It does crackle when it's pressed and it is solid, nothing moves.
It has what seems to be, leather shaped claws on 3 of its paws as one is missing.
I remember being told that it was made from kangaroo skin which unfortunately has worn away in some places, especially round the paw areas.
The back of the bear also shows signs of wear on the fur.
Some of the original stitching can be seen around the paw area as the fur started to rub away.
It has, I think, black glass eyes (they definitely don't feel like plastic) and I think a moulded plastic nose.
The bottom of it has started to undo about 1 and 1/2 inches so does need repairing but none of the inside is falling out.
All I've been able to find out about it was it belonged to an Australian relative, who passed it onto my older sister when she was born so I know it's over 65 years old.
It was passed onto me and for some reason, I always kept it as I got older.