Large Bear with Farnell Label 28 inches long 16 high Possible Pull Along?
by John Flynn
(California)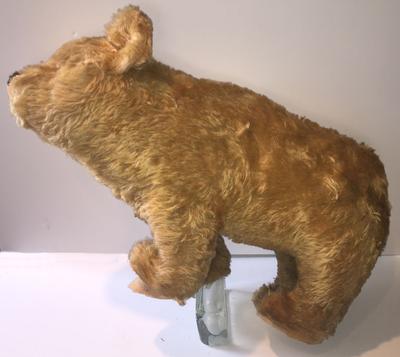 Overall left
Please help identify this bear. It was recently found in a storage unit in California. It is a large bear, measuring 28 inches nose to "tail" and standing 16 inches tall foot to top of head. Color would best be described as blonde, I believe. There is a Farnell label on the chest. It is the label used starting in 1926, I believe. The label is rectangular with a white background and blue lettering and says "A Farnell - Alpha Toy - Made in England". Preceding words are written top - middle - bottom. The bear appears to be a polar bear and is not jointed. The eyes are missing. The paw pads are reinforced with two layers of a pressed card padding inside and there are metal wires visible through a split in the paw seam. The bear fur is mohair. It is stuffed with excelsior. Unfortunately, the nose thread is mostly worn off. The mouth is made of a single line of what looks like yarn for lack of a better term. The ears are quite large. Muzzle is rather short and I think worn rather than shaved. None of the paws has any black thread to define claws/toes.


Unfortunately, I have no history of this bear. It was part of a collection of a wide variety of bears, new and old, expensive and not so much. I had thought that this bear was perhaps a pull along but have not located any wheels and see no signs of attachment points at the paws. I have not been able to find any Farnell pull along polar bear information to compare and confirm.
Many thanks to any and all who are able to provide information on this great old bear.