Leather button eyes teddy bear
by John Marks
(Sacramento, Ca)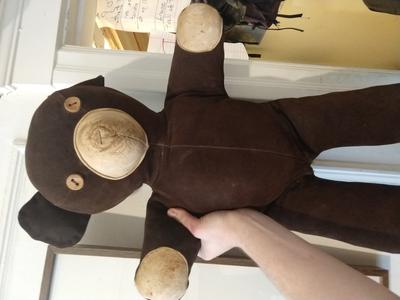 Leather button eyes teddy bear
Leather button eyes, suede not sure:

Hello,

I could use your help. This bear belonged to a relative, but I do not know anything about it.
*The eyes appear to be leather buttons.
*The nose is appointed snout.
*It is about 24 inches long.
*The body appears to be made of suede, but that is a guess.
* The paws all have an outline of pads for fingers and toes.
* The bear appears to be filled with little pieces of yellow foam.

So dating it causes me confusion because the leather button eyes indicates it may be old but I'm not sure if they had foam way back when.

So if anyone can offer an opinion it would be greatly appreciated because I really don't know anything at all.

My relative thought very highly of the bear and so it'd be great to find out more.

Thank you very much and I hope you have a nice day.