Light Brown Teddy Who Is He?
by Jenny
(Toronto, Canada)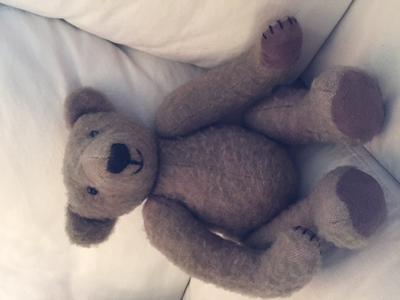 light brown teddy
I purchased this teddy bear from an estate toy sale about ten years ago from Ontario, Canada. A gentleman there told me 'wow, you've got something special here...' and proceeded to tell me about it - of course, I was in a rush and couldn't jot down any information! This jointed bear (head, arms and legs) is about 15" tall. I've never made a 'jointed bear' so I'm not sure how it is normally constructed - but I can feel two circular disks inside at each joint that measure about 2" across. He's pretty heavy and solid, yet soft to squish (not crunchy). The colour is a beautiful light ashy-brown - though I cannot tell you what the fabric is. It's fuzzy on the surface, but you can easily see through the fuzz to the weaved fabric - on some spots, the fuzz is actually almost gone, as on the top of the snout (I did the burn test - left ash). The body shape is nice and plump - he has a slightly hunched back and a belly. The body is constructed for four different pieces of fabric with seams at the sides, front and back that join at the neck and bottom. The body is about 7" tall. The arms measure about 8" long and curve inward (like a banana?). The legs measure about 6.5" long and are much like the shape of a human leg. A different fabric is used on the pads of the arms and legs - feels like suede. Both arms and legs are constructed of two pieces of fabric plus the pads. The arms have black stitches on the paws. The head is constructed of four different pieces of fabric - all joining at the base of the neck and at the nose. The ears have been sewn to the surface of the head. From the back of his head to the tip of his snout is about 5" long. The back of his head measures 4.5" wide (plus the ears). His nose and mouth are stitched with black embroidery thread. His black eyes appear and feel as though they are glass - when looked at in the light, they are actually dark brown and transparent. They have metal loops as backings. At the back of the head, just above where it is attached to the body, there is a knot from the black embroidery thread. I would like to know if this bear was mass-produced by a toy company, or lovingly made by an individual. Thank you!
Join in and write your own page! It's easy to do. How? Simply click here to return to I.D Your Bear.
If you enjoyed this page, please consider sharing
 it with your friends: